#Discount #dining #room #furniture
Welcome to Underpriced Furniture!
When it comes to your home furniture , never settle for less than the best. Come to Underpriced Furniture , and you will find an extensive array of quality home furnishings that are stylish, durable, and exceptionally low priced. Our furniture store was founded in 1986, and since its inception, we have strived to offer the best furniture deals in all of Norcross, GA . Visit us in-person, and see for yourself how we became one of the most trusted furniture stores in Gwinnett County .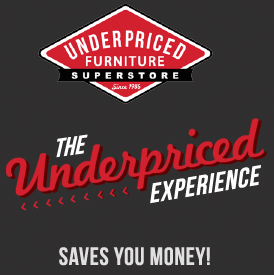 ONLINE SHOPPERS: 404-418-8544
CUSTOMER SERVICE: 678-710-0299
UNDERPRICED FURNITURE SUPERSTORE
6694 DAWSON BLVD
NORCROSS, GA 30093-1052
MONDAY TO FRIDAY:10AM TO 8PM
SATURDAY: 10AM TO 8PM
SUNDAY:12PM TO 6PM
UNDERPRICED FURNITURE DISTRIBUTION CENTER
1030 NORCROSS INDUSTRIAL CT
NORCROSS, GA 30093-1052
THURSDAY TO TUESDAY: 9AM TO 5:30PM
Categories
Bedrooms
Living Room
Dining Room
Accents
Office
Kids
Mattresses
Entertainment
Outdoor
Quick Links
Why Underpriced?
No Credit Check
Financing
Layaway
Careers
Locate Us
Latest Products
Contact Us
Shopping
My Account
Wishlist
View Cart
Login
Store Locations
Store Locator
Use of this Site is subject to express Terms of Use. By using this Site, you signify that you agree to be bound by Our Terms of Use.
All marks,images,logos,text are the property of their respective owners.